Tuition

£ 1,200

£ 600

Limited time offer
Special Executive Master's Programme in Business Administration in London 2022
£ 1,200
£ 600
---
Special Executive Masters Programme (S.E.M.P)
This programme is geared at enhancing professionals' careers. The SEMP is an encapsulated Senior Management Programmes are short certificate modules designed for anyone who would benefit from more in-depth business knowledge delivered in a short and intensive programme
What makes us different ?
We are a world class business school located in the heart of London, Dubai, Muscat and Lagos. We are one of the fastest growing British business schools with a stylish blended learning model that is both online and on campus.
Learn more about the programme
Course Overview

The MSBM Special Executive Masters Programmes (SEMP) allows you to update your skills, develop new skills, and explore and develop interests in a wide range of topics. These courses can be taken as personal or professional development and may enhance your employability.

Economic knowledge and good administration are crucial to prosperity and progress in modern society. For both customers and employees, it is important that companies and public institutions are administered well. At the same time, good administration has a significant impact on a company's bottom line figures. One of the keywords in Business Administration is management, and as a SEMP BA student, you will gain insight into both financial and psychological aspects of management. The online Programme will provide you with a wide range of skills that will qualify you for many different positions in the public or private sectors.

The courses in Business Administration will provide you with insight into Organisational theory, management psychology, marketing, planning, microeconomics and cost management. You will learn how to locate and analyze management issues, such as how to increase customer satisfaction; you will also learn to understand how companies and institutions are influenced by international conditions, technology, the global economy, or legislation.



Mode of Study
Using Web-based technology, this program provides self-paced, individualized instruction that can be taken anywhere and anytime an individual has access to a computer and the Internet. This Programme is suitable for successful professionals or specialists in the private, public, or voluntary sectors who have new management responsibilities and need to quickly expand their management knowledge.

This Programme serves as a refresher course for those who have had their Masters a long time ago and need quick reminders and professional/ academic updates while it serves as a primer for those very experienced Professionals who never made time out for their masters yet they require the academic and practical relevance of this master's experience.

It is a short executive training that runs online for 3 months. Candidates will run 2 months of active lectures and series of assignments and 1 month for their dissertation. Upon successful completion of the Programme, candidates will be awarded a Continuing Professional Development (CPD) certificate in the specific Programme they have completed.

What is a CPD Course?

Continuing Professional Development (CPD) is the means by which professionals maintain and enhance their knowledge and skills. The world is constantly moving at a very fast pace so undertaking CPD is essential to support a professional in his/her current role as well as helping them with career progression. CPD is all about upgrading knowledge, skills, and capabilities to remain effective and compliant.

A CPD course is an investment that you make in yourself. It's a way of planning your development that links learning directly to practice. CPD can help you keep your skills and knowledge up to date and prepare you for greater responsibilities. It can boost your confidence, strengthen your professional credibility, and help you become more creative in tackling new challenges.


Is the SEMP Business Administration right for me?
SEMP Business Administration Programme emphasizes preparation for practical decision making in a business environment. The online Programme will prepare you for a career in business. Students develop specialized skills and improve their capacity to analyze, communicate effectively with associates, think independently, and thrive in work situations.

Why SEMP Business Administration?
The courses in Business Administration will provide you with insight into organizational theory, management psychology, marketing, planning, microeconomics and cost management. You will learn how to locate and analyze management issues, such as how to increase customer satisfaction. You will also learn to understand how companies and institutions are influenced by international conditions, technology, the global economy, or legislation.

Who should enrol in this online Certificate Program?
This non-credit-bearing course is designed for entry-level managers, up to mid-level managers, senior managers or directors, consultants who are in a general management role, or fast approaching such position and are seeking an opportunity to obtain a richer and deeper understanding of management skills.
It is ideal for professionals of all levels. This Programme provides practical skills to overcome daily challenges by providing participants with the latest administration principles and techniques.
ASSIGNMENT & STUDY GUIDELINES
This module provides the most critical information about the study course and assignment submission.
ENTREPRENEURSHIP AND LEADERSHIP DEVELOPMENT
The aim of the module is to give the learner a broader idea of leadership theory and practices. The module aims to explain the role of a leader, its influence on people so that the learner is aware of the impact leadership has on people and organizational productivity. It also aims to enhance learners' knowledge of the strategic aspect of leadership thinking through the process of a successful strategy and execution. Team management and delivery and building on the organization's vision.
INTERNATIONAL BUSINESS STRATEGY
This course aims to introduce learners to current debates, theories, and practices in the field of International Business.
INTERNATIONAL MARKETING MANAGEMENT
The module provides students with knowledge of the theory, concepts, issues, and practice of international marketing. It identifies processes, contexts, and influences associated with international marketing strategies, develops students' appreciation both of strategies and plans for different economies and of the implications, monitoring, and control of the international marketing process.
RESEARCH METHODOLOGY
To provide learners with the competence to proffer solutions to problems arising in relation to leadership, management, and development of human resources within the organizational contexts. Learners will be enabled to appraise the effectiveness of organizational strategies, processes, and practices in efficient and effective leadership and management, also the contribution of HRM/HRD practitioners to organizational change.
STRATEGIC FINANCIAL MANAGEMENT
On completion of this unit, learners will have gained knowledge and understanding relating to planning the usage and management of a business organization's financial resources. Learners will understand the importance of attaining business objectives and maximizing shareholder return. Learners will gain a working knowledge of business strategy design and the production of comprehensive business plans.
STRATEGIC MANAGEMENT
To examine the principles of strategy and change management and provide learners with a critical understanding and ability to use various models of the strategy and change management process and the analysis of internal-external environmental and resource variables.
The content of this course has been independently certified as conforming to universally accepted Continuous Professional Development (CPD) guidelines.
Students who successfully complete the online S.E.M.P programme will receive a Special Executive Masters Programme in Business Administration (SEMP MBA) from the Metropolitan School of Business and Management UK.

The Special Executive Masters Certificates are Non-credit bearing and Non-Degree Certificates.

These are not actual Masters Certificate but a trademark of the Metropolitan School of Business and Management. However, the modules of the Special Executive Masters Programme are modelled after the regular Master's programmes which allow delegates to gain a thorough knowledge of the subject.

This programme cannot be used to pursue the academic PhD.

However the relevancy of the certificate lies in the knowledge of the bearer to demonstrate ground knowledge of the subject the certificate was issued in, and this certificate counts towards the appropriate Continuous Professional Development (CPD).
There are no strict entry requirements for this course. Work experience will be added advantage to understanding the content of the course.
This is a self-study programme with unlimited tutor support. You will never be more than a message or phone call away from our tutors.
There are no Visa requirements for this Course as it is an Online Course.
Learn fast
Online courses with compact learning chapters enable you to learn business skills faster than ever.
Study Online
Get access to online study materials. All courses are 100% online and self-paced.
Global community
No conventional requirements needed, our courses are open to all ages, professions and citizenship.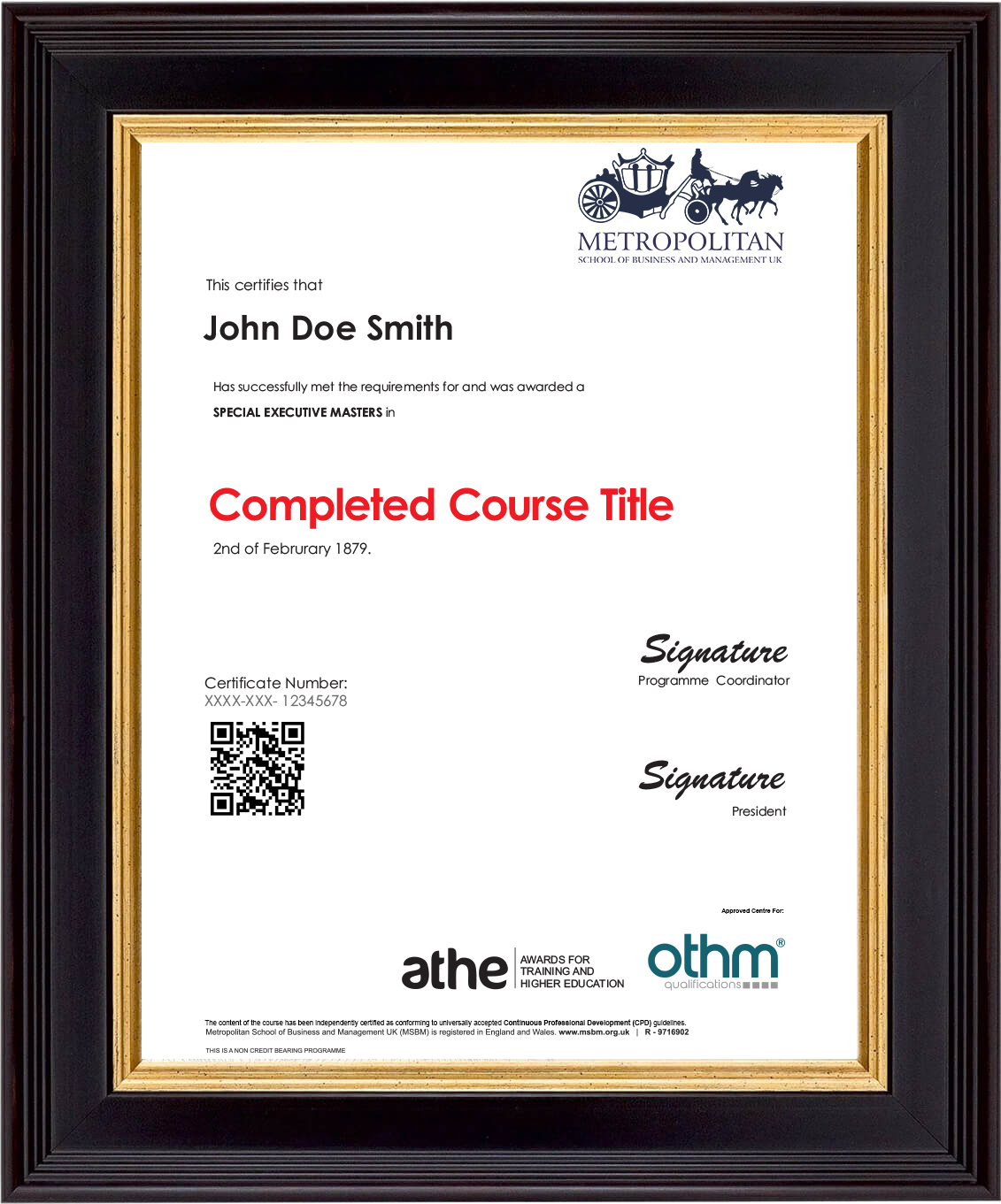 Get Your Course Certificate
You will receive a highly valued digital certificate at the end of each course.
Learn Practical Business Modules
Complete several modules ranging from Business Leadership and Managing People.

Share your certificate
Learn how to share your certificate on LinkedIn by clicking
here
16,213 Verified Reviews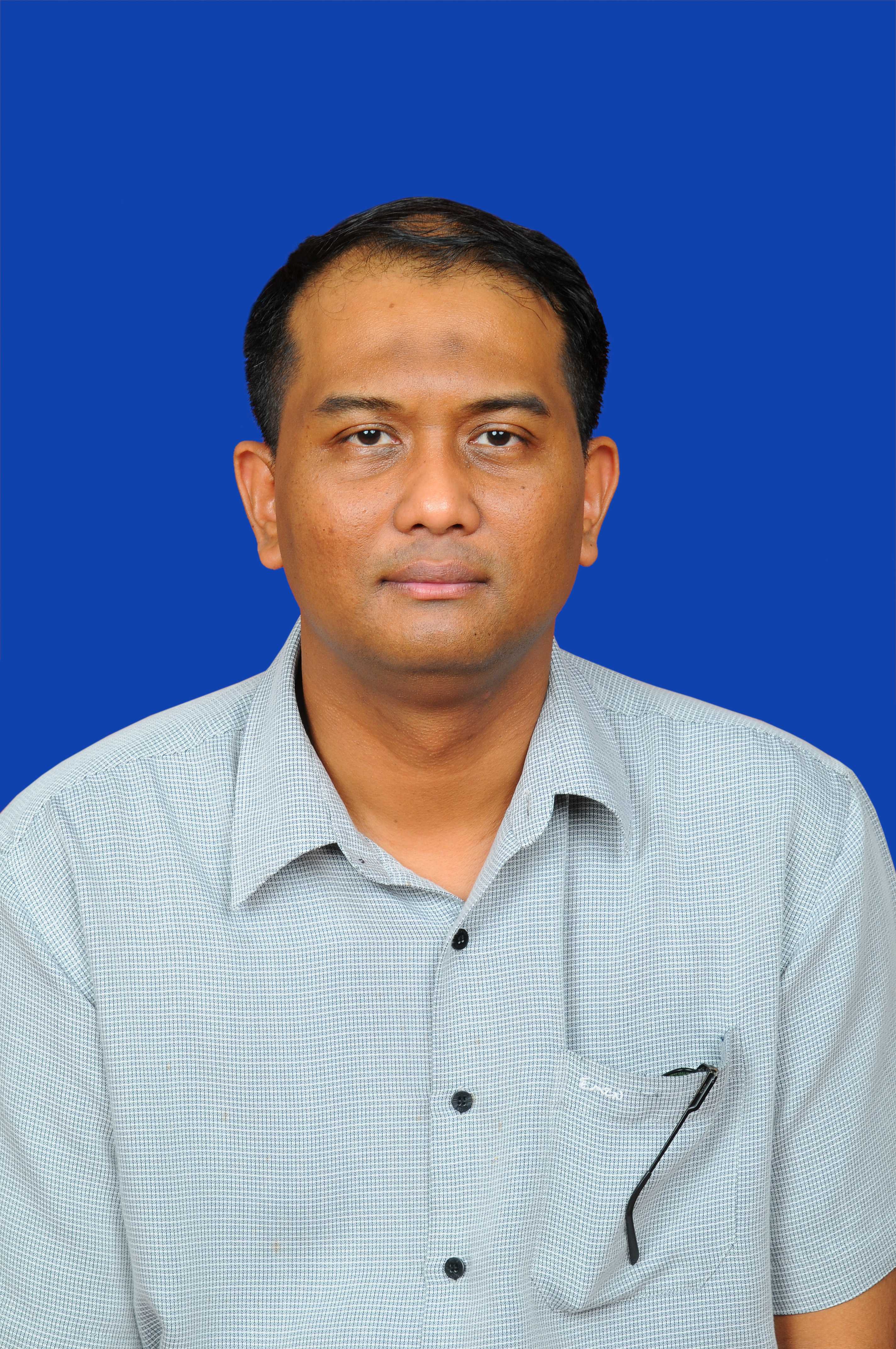 "Indeed it was a good learning experience with easy guidance and lectures."
Hasrizan H.
Brunei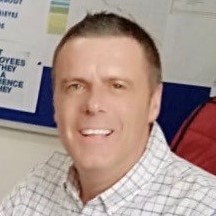 "Really good course for those wishing to study online"
David C.
United Kingdom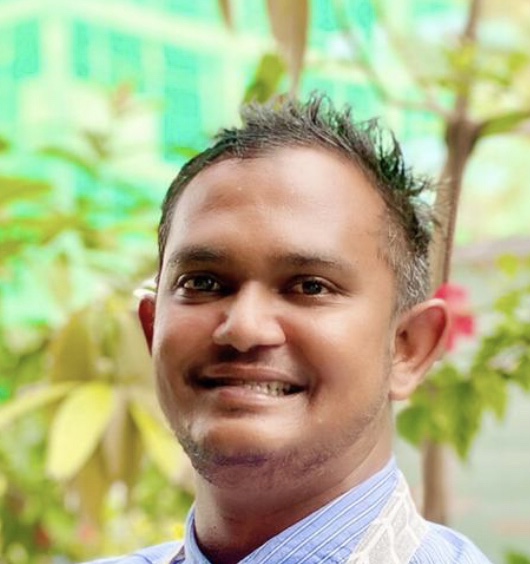 "A smart way to enhance my knowledge within a short period of time, the course is very productive and beneficial for me...so grateful that i completed successf See More"
BADHEEU H.
Maldives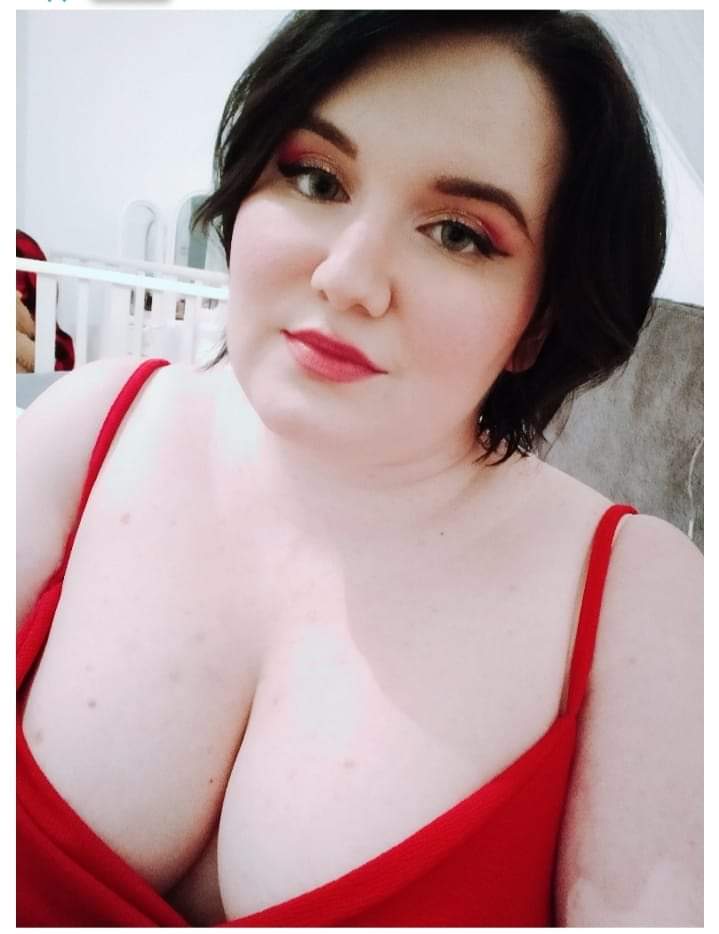 "The course was everything I hoped for! Gave me such a positive input in my press office job. "
Federica P.
Italy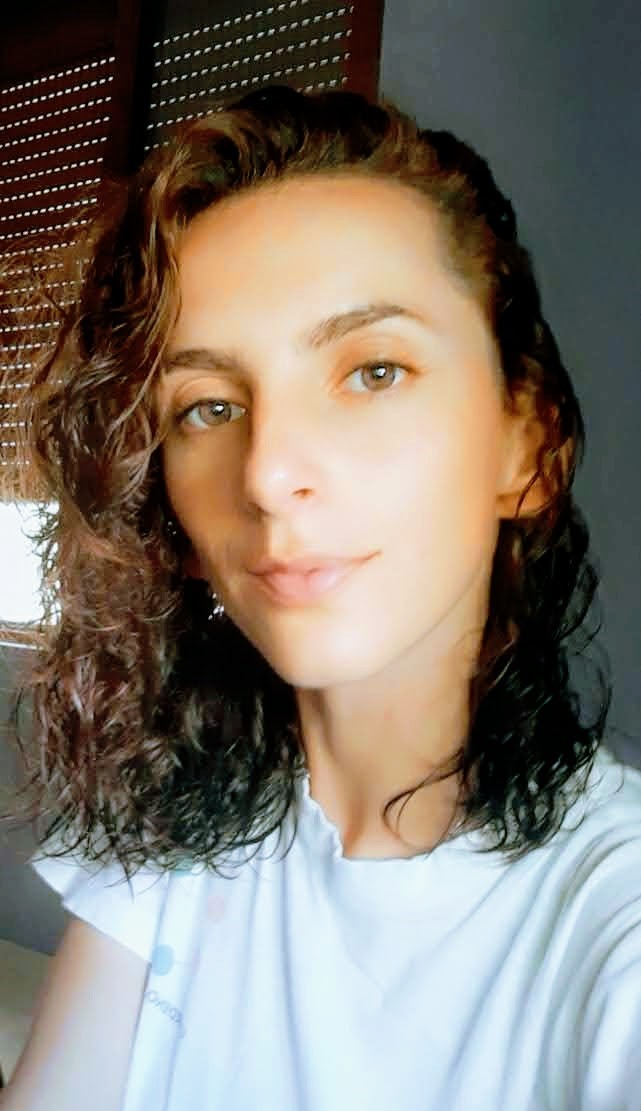 "I would really like to recommend the courses on this site. I just finished one of them and it helped me learn a lot. The notes and the videos are well-organis See More"
Anita Z.
Albania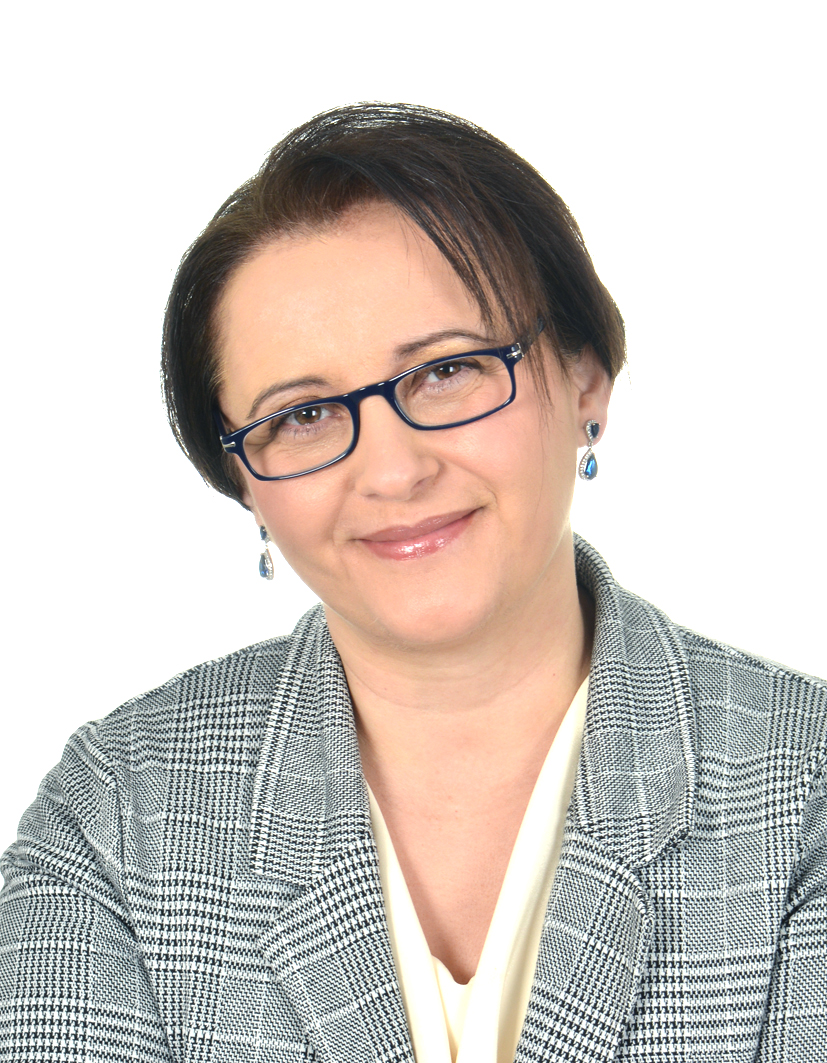 "Having this course was a wise thing to do as i really familiarised with basic and advanced knowledge of the MBA. Its useful for everyone who wants to learn some See More"
Evaggelia C.
Greece