Free Online Courses
These are short online certificate courses designed to help you develop professionally and achieve your career goals, while you earn a professional certificate which qualifies you for the appropriate continuous professional development (CPD).
What makes our business school different?
100% Online
Study our courses online with ease.
Unlimited Access
24/7 unlimited access to our certificate programmes with pre-recorded lectures.
Low Fees
Our online education fees are low and easy to pay online.
UK CPD Certificate
Certificate to show what you have learnt.
Explore Free Online Courses in London, United Kingdom
1 Programmes
Learn Fast
Online courses with compact learning chapters enable you to learn business skills faster than ever.
Study Online
Get access to online study materials. All courses are 100% online and self-paced.
Global Community
No conventional requirements needed, our courses are open to all ages, professions and citizenship.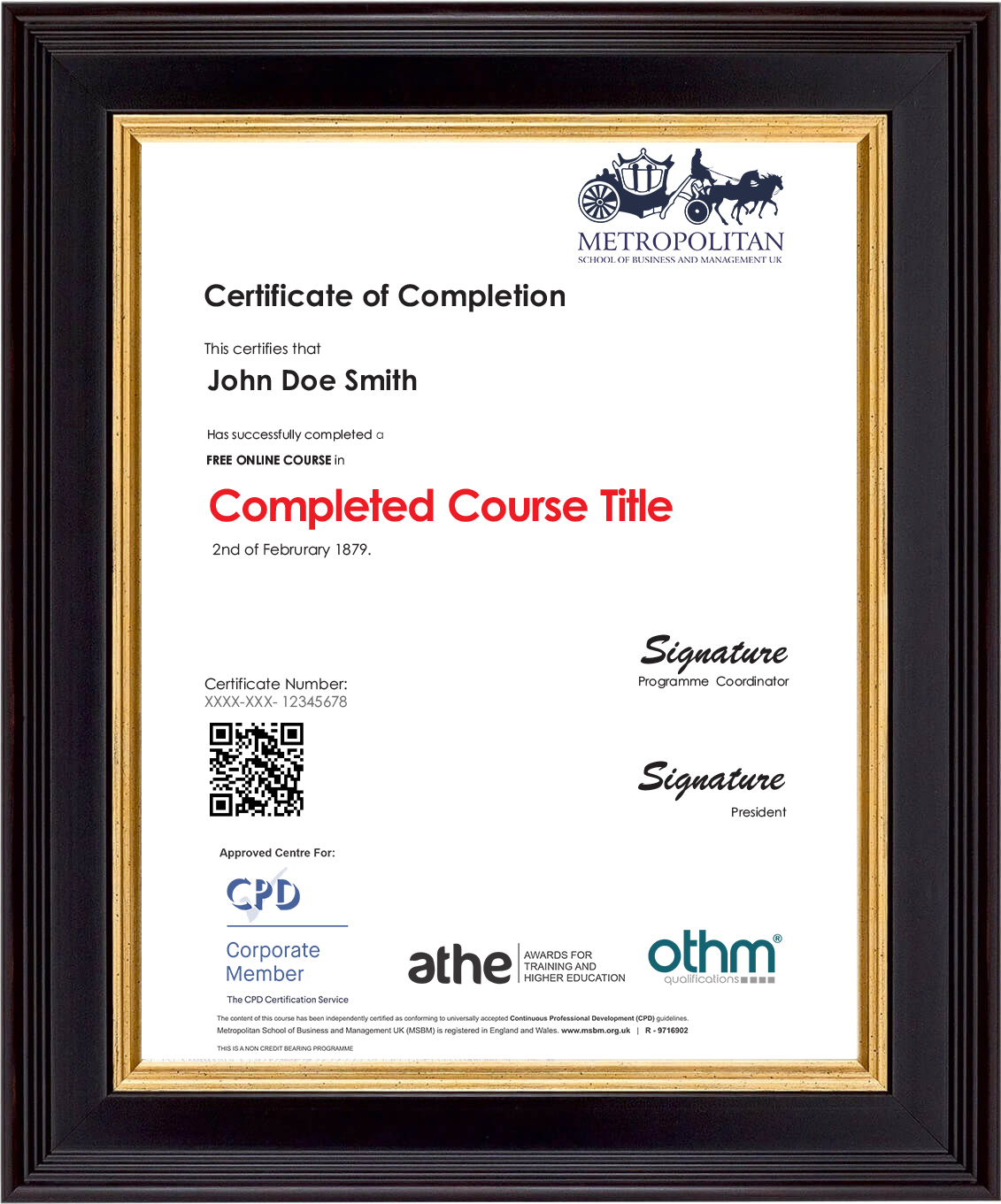 Get Your Course Certificate
You will receive a highly valued digital certificate at the end of each course.
Learn Practical Business Modules
Complete several modules ranging from Business Leadership and Managing People.

Share your certificate
Learn how to share your certificate on LinkedIn by clicking
here
21,267 Verified Reviews

"Excellent eLearning Platform with intelligent study material for better and easy understanding. Very much user friendly and one of the best self paces learning See More"
Amit C.

"What impressed me the most about this course was its being helpful and detailed. What I suggested the other learners to achieve this is applying to your related See More"

Khang V.

"First of all, I would like to thank the MSBM team's for this course is designed to help me and how to use it for my life experiences. Second of all, this cours See More"

Nour R.

"Incredible! Loved how direct to the subject it is. Very easy to understand and its lessons are very important to someone who wants to be A LEADER."

Carlos C.

"Did not expect to learn so much in such a short amount of time and on my own time! Great for those who have fluctuating schedules"

Fidel F.

"The course was intensive yet very informative. I was able to learn a lot of new information from the different topics covered and it was flexible enough to acco See More"
Shermana S.

"I liked this course a lot. because I have difficult job. which contains of too many stress causing factors and now I know how too help myself and maybe my colle See More"

LIALIA S.

"An insightful short course that facilitates learning. Definitely learned some useful tips that I can apply when teaching my various courses."

Edison B.
Previous
Next
The Metro Business
- Articles you'll love