Tuition

£ 4,500

£ 2,500

Limited time offer
Special Executive Master's Programme in Project Management in Redbridge 2022
£ 4,500
£ 2,500
---
Special Executive Masters Programme (S.E.M.P)
This programme is geared at enhancing professionals' careers. The SEMP is an encapsulated Senior Management Programmes are short certificate modules designed for anyone who would benefit from more in-depth business knowledge delivered in a short and intensive programme
What makes us different ?
We are a world class business school located in the heart of London, Dubai, Muscat and Lagos. We are one of the fastest growing British business schools with a stylish blended learning model that is both online and on campus.
Learn more about the programme
Course Overview

The MSBM Special Executive Masters Programmes (SEMP) allows you to update your skills, develop new skills, and explore and develop interests in a wide range of topics. These courses can be taken as personal or professional development and may enhance your employability.

In today's challenging economic environment, project managers, senior management, and professional needs to understand the fundamental supportive and strategic role that project management plays in business. If companies are to pursue their plans for stability and growth they need to cease seeing project management as a functional activity and place it at the core of their business processes. At the same time, project managers and planners share the responsibility to engage better on a business basis with senior executives.


Mode of Study
Using Web-based technology, this program provides self-paced, individualized instruction that can be taken anywhere and anytime an individual has access to a computer and the Internet. This Programme is suitable for successful professionals or specialists in the private, public, or voluntary sectors who have new management responsibilities and need to quickly expand their management knowledge.

This Programme serves as a refresher course for those who have had their Masters a long time ago and need quick reminders and professional/ academic updates while it serves as a primer for those very experienced Professionals who never made time out for their masters yet they require the academic and practical relevance of this master's experience.

It is a short executive training that runs online for 3 months. Candidates will run 2 months of active lectures and series of assignments and 1 month for their dissertation. Upon successful completion of the Programme, candidates will be awarded a Continuing Professional Development (CPD) certificate in the specific Programme they have completed.


What is a CPD Course?

Continuing Professional Development (CPD) is the means by which professionals maintain and enhance their knowledge and skills. The world is constantly moving at a very fast pace so undertaking CPD is essential to support a professional in his/her current role as well as helping them with career progression. CPD is all about upgrading knowledge, skills, and capabilities to remain effective and compliant.

A CPD course is an investment that you make in yourself. It's a way of planning your development that links learning directly to practice. CPD can help you keep your skills and knowledge up to date and prepare you for greater responsibilities. It can boost your confidence, strengthen your professional credibility, and help you become more creative in tackling new challenges.

Is the SEMP Project Management Programme right for me?
Some project managers train specifically for a professional role in project management right from the start, whilst others progress through their organization in different roles, and at some point identify project management as a role they would like to take on. Sometimes it is a role that you fall into by accident or one that is thrust upon you; so practical experience is often gained before becoming certified.
If you are contemplating a career change then there are several things you should consider. Firstly, you must consider if you think you have the right sort of personality to become a project manager, for instance:
Are you comfortable taking the lead role in a high-pressure situation?
Have you got the ability to effectively manage resources on a large scale?
Can you think on your feet and quickly react to change?
Do you have good problem-solving skills?
Do you have experience with finance to manage large budgets?
Can you be honest, and say 'No' to staff and management when required?
Can you be decisive when required, and accept responsibility for your decisions?
If you answered yes to most of these questions then a career in project management is definitely worth considering. As long as you're proficient in most of the above, you can learn the remaining aspects through good additional training.


Why SEMP Project Management?
This non-credit-bearing course is designed to provide benefits to the managers and directors of a project and to an Organization, through the controllable use of resources and the ability to manage business and project risk more effectively.
It embodies established and proven best practices in project management. It is widely recognized and understood, providing a common language for all participants in a project.
It encourages formal recognition of responsibilities within a project and focuses on what a project is to deliver, why, when, and for whom.

Who should enrol in this online Certificate Program?
Whether you are in construction management; project execution; or project, program or portfolio management, this could be an ideal program for you if you are looking for career development opportunities to enhance your knowledge and skillsets in managing large, complex projects. Also, here of some of the people that can register for the online Programme.
project manager
assistant project manager
project management associate
project coordinator
project planner
project change management analyst
This module provides the most critical information about the study course and assignment submission.
This course will enable students to understand issues and decisions that must be made when embarking upon an ERP selection and implementation journey. It will also lead to an understanding of the challenges associated with managing extant ERP systems. In the process, students will become familiar with the forces and organizational conditions leading to the acquisition of such enterprise-wide systems.
To understand the process of identifying appropriate and feasible projects, and to be able to initiate and start a project. To be able to manage, monitor and control a project, including assessing, managing and controlling project risks and issues, project, and team management and change management. To be able to evaluate the success or failure of a project.
The course is designed to help students become good researchers, to become familiar with the steps in proposing research topics, and clearly apply research knowledge in education. After completing the course, students will be able to prepare a research plan, collect data, address research questions and hypotheses, and organize a project report.
On completion of this unit, learners will have gained knowledge and understanding relating to planning the usage and management of a business organization's financial resources. Learners will understand the importance of attaining business objectives and maximizing shareholder return. Learners will gain a working knowledge of business strategy design and the production of comprehensive business plans.
At the completion of this course, the student should be able to examine the design and performance of supply networks and processes in different business contexts. Students develop capabilities in logistics, digital coordination for supply chain integration, inventory management, risk pooling, procurement, product, and process design, and international supply chain management.
The objective of this course is to gain the knowledge of possibilities of efficient optimization and management of operation using TQM to improve the overall efficiency of the firm.
The content of this course has been independently certified as conforming to universally accepted Continuous Professional Development (CPD) guidelines.
There are no strict entry requirements for this course. Work experience will be added advantage to understanding the content of the course.
This is a self-study programme with unlimited tutor support. You will never be more than a message or phone call away from our tutors.
There are no Visa Requirements for this Course as it's an Online Course.
Learn fast
Online courses with compact learning chapters enable you to learn business skills faster than ever.
Study Online
Get access to online study materials. All courses are 100% online and self-paced.
Global community
No conventional requirements needed, our courses are open to all ages, professions and citizenship.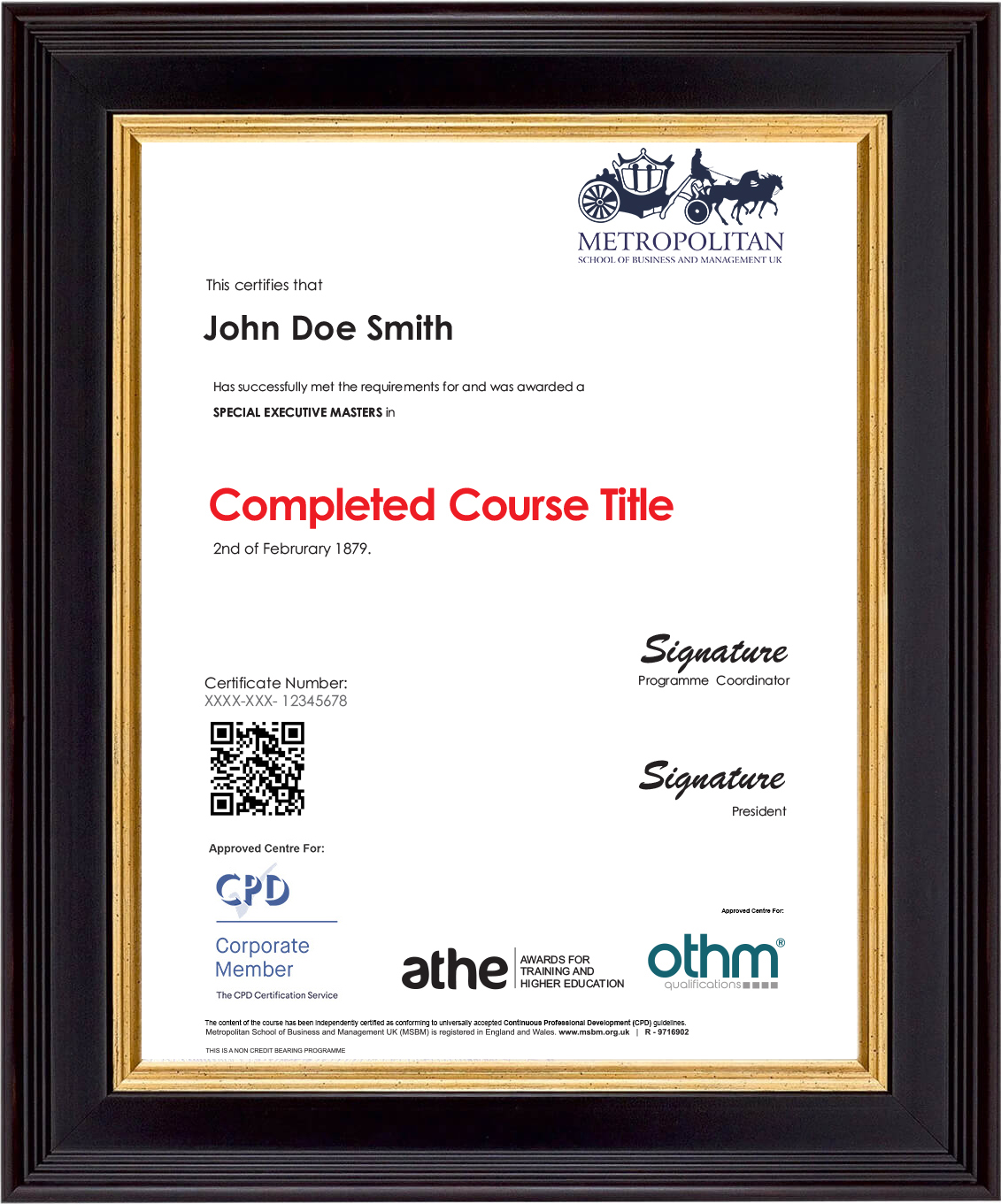 Get Your Course Certificate
You will receive a highly valued digital certificate at the end of each course.
Learn Practical Business Modules
Complete several modules ranging from Business Leadership and Managing People.

Share your certificate
Learn how to share your certificate on LinkedIn by clicking
here
19,669 Verified Reviews

"It has been a great learning experience"
Nakiguli R.

"Very helpful course especially for the working professionals"

Sano M.

"It is actually a great honor to have taken a course from my comfort zone.
I enjoyed the course"

EVANS M.

"It's very great material"

Elvis K.

"It is simply a great learning platform"

Justina B.

"Very simple and helpful "

José P.

"I'm happy to complete this course with MSBM. They have added value to my knowledge and career."

Awil I.

"Its very helpful and important in understanding stress related information to work staff"

Tatenda Z.
Previous
Next
See other related Special Executive Master's Courses in Redbridge, United Kingdom
The Metro Business
- Articles you'll love