Tuition

₦ 3,690,000

₦ 2,050,000

Limited time offer
Special Executive Master's Programme in Financial Management in Nigeria 2022
₦ 3,690,000
₦ 2,050,000
---
Special Executive Masters Programme (S.E.M.P)
This programme is geared at enhancing professionals' careers. The SEMP is an encapsulated Senior Management Programmes are short certificate modules designed for anyone who would benefit from more in-depth business knowledge delivered in a short and intensive programme
What makes us different ?
We are a world class business school located in the heart of London, Dubai, Muscat and Lagos. We are one of the fastest growing British business schools with a stylish blended learning model that is both online and on campus.
Learn more about the programme
Course Overview

The MSBM Special Executive Masters Programmes (SEMP) allows you to update your skills, develop new skills, and explore and develop interests in a wide range of topics. These courses can be taken as personal or professional development and may enhance your employability.

The SEMP in Financial Management is targeted at finance professionals and other professionals who want to develop a career in finance, and who require a wide-ranging understanding of financial techniques and their application – but do not require a high-level mathematical understanding of finance theories.
The SEMP in Financial Management offers specialist studies in the areas of corporate finance, investments, and risk management. It will give online participants a relevant practical knowledge of finance that can be put into use straight away. Careers in finance depend upon a strong understanding of the foundations of finance, investment behaviour, and the dynamic nature of finance, and the SEMP FM will provide a strong preparation for a career in a wide variety of positions within the finance profession.


Mode of Study
Using Web-based technology, this program provides self-paced, individualized instruction that can be taken anywhere and anytime an individual has access to a computer and the Internet. This Programme is suitable for successful professionals or specialists in the private, public, or voluntary sectors who have new management responsibilities and need to quickly expand their management knowledge.

This Programme serves as a refresher course for those who have had their Masters a long time ago and need quick reminders and professional/ academic updates while it serves as a primer for those very experienced Professionals who never made time out for their masters yet they require the academic and practical relevance of this master's experience.

It is a short executive training that runs online for 3 months. Candidates will run 2 months of active lectures and series of assignments and 1 month for their dissertation. Upon successful completion of the Programme, candidates will be awarded a Continuing Professional Development (CPD) certificate in the specific Programme they have completed.

What is a CPD Course?

Continuing Professional Development (CPD) is the means by which professionals maintain and enhance their knowledge and skills. The world is constantly moving at a very fast pace so undertaking CPD is essential to support a professional in his/her current role as well as helping them with career progression. CPD is all about upgrading knowledge, skills, and capabilities to remain effective and compliant.

A CPD course is an investment that you make in yourself. It's a way of planning your development that links learning directly to practice. CPD can help you keep your skills and knowledge up to date and prepare you for greater responsibilities. It can boost your confidence, strengthen your professional credibility, and help you become more creative in tackling new challenges.

Is the SEMP Financial Management Programme right for me?
Understanding non-profit financial reports and improving the ability of an organization to manage solvency issues is key to a sustainable and successful organization. Our online SEMP Financial Management Programme will help Board members, Senior Management, and other team members of your organization understand the 'money story', so they can make better decisions about the future of the organization.
If you do not have a strong financial background, this three months online course will improve your ability to manage solvency and risk issues and also effectively increase your knowledge of the use of financial information.
Why SEMP Financial Management?
SEMP Financial Management helps participants to develop the skills to analyze company financial data accurately and strategically. It focuses on improving executive decision making. This online Programme gives you tools and techniques that provide a comprehensive view of your company, competitors, and potential acquisitions which can help to monitor and forecast performance, measure profitability, assess competitiveness, and analyze restructuring opportunities.
Other Benefits include:
Financial management plays an involved role in the health of the overall economy, which impacts everyone, regardless of whether or not they have studied finance.
Like companies, individuals are faced with investment and financing decisions. Having a firm grasp of finance will help individuals make those decisions.
All business functions deal with finance because they need to be able to make the financial argument for the funding of their projects and to manage their budgets.
Who should enrol in this online Certificate Program?
Advisors working with private equity, including investment bankers, consultants, corporate lawyers or accountants
Finance professionals and senior executives who want to understand the implications of private equity for their business, or who want to work in the industry
Investors, from pension fund managers to wealth managers seeking to deepen their knowledge of private equity to inform decisions
Entrepreneurs or senior executives from large companies seeking private equity funding
Private equity professionals wishing to benefit from the latest research and practice
This module provides the most critical information about the study course and assignment submission.
On completion of this unit, learners will be able to prepare and interpret the financial statements for a range of business organizations. The learners will be able to apply relevant accounting concepts and principles. The unit provides an opportunity for learners to enhance their quantitative and qualitative analytical skills, through the interpretation of financial data.
The aim of this unit is to allow learners to gain an in-depth understanding of Corporate Social Responsibility and Corporate Governance. Learners will consider the various ways that businesses and financial institutions need to operate to ensure that society accepts their processes and procedures. Learners will gain an understanding of the importance of acting in such a way that ethical codes and practices are followed and individual dignity is enhanced. Learners will understand the skills required to deal appropriately with governing authorities in the private, public and charitable sectors.
The aim of this unit is to develop learners' understanding of the types of decisions that need to be taken when entering global markets. Learners will gain an understanding of why independence in solving financial issues within a specific period of time is vital for business success.
The aim of this unit is to allow learners to gain a working knowledge and understanding of investment theories and market equilibrium models. Study of this unit will allow learners to perform bond valuations and evaluate current performance. On completion of this unit, learners should have gained sufficient skills to critically assess the cause and effect of the impact of developments on the world's capital market. Learners will be able to make effective recommendations for further improvement.
The aim of this unit is to develop learners' understanding of planning and managing the use of an organisation's financial resources. Learners will understand the importance of attaining business objectives and maximizing shareholder return. Learners will gain a working knowledge of business strategy design and the production of comprehensive business plans.
The aim of this unit is to develop learners' understanding of how managers can position and execute business strategy appropriately. This will involve an in-depth study of the strategic auditing process and related procedures. Learners will be able to understand and apply suitable investigative techniques to both positive and negative environments.
The content of this course has been independently certified as conforming to universally accepted Continuous Professional Development (CPD) guidelines.
There are no strict entry requirements for this course. Work experience will be added advantage to understanding the content of the course.
This is a self-study programme with unlimited tutor support. You will never be more than a message or phone call away from our tutors.
There are no Visa Requirements for this Course as its an Online Course.
Learn fast
Online courses with compact learning chapters enable you to learn business skills faster than ever.
Study Online
Get access to online study materials. All courses are 100% online and self-paced.
Global community
No conventional requirements needed, our courses are open to all ages, professions and citizenship.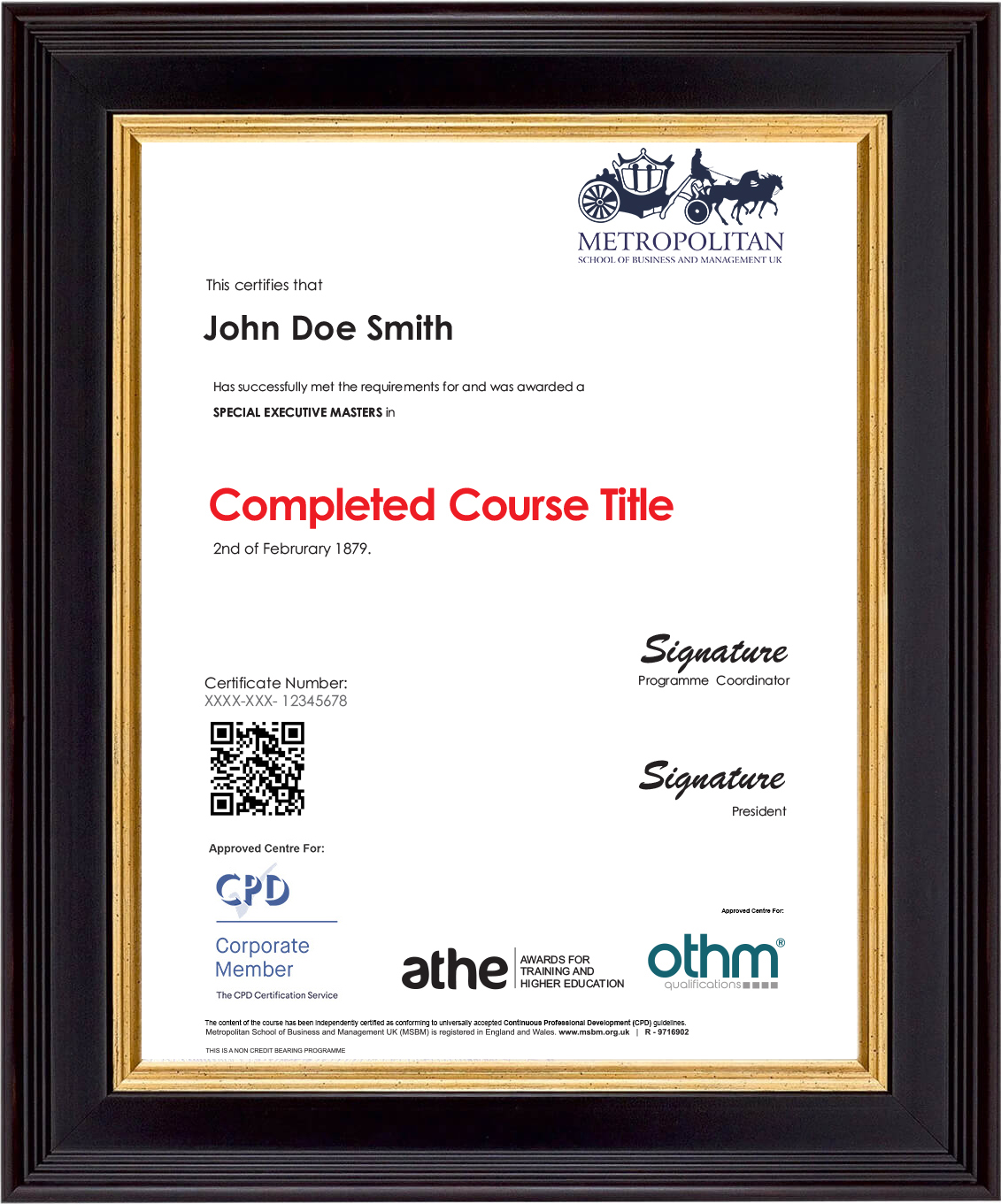 Get Your Course Certificate
You will receive a highly valued digital certificate at the end of each course.
Learn Practical Business Modules
Complete several modules ranging from Business Leadership and Managing People.

Share your certificate
Learn how to share your certificate on LinkedIn by clicking
here
19,647 Verified Reviews

"I learned so much in a short time! I enrolled the course while working full-time and still be able to finish and understand all the lectures. Easy and simple See More"

Muhammad H.

"It doesn't matter how many times I attend, I always learn something new!"
Veronica H.

"I consider this course very useful, containing a large volume of necessary information needed for my professional development within my daily activities at my w See More"

Grigore C.

"This is the astonishing course. i really love it and appreciate its contents. "

Siyar K.

"Very intense and very interesting. Since doing this course in 2016 I have referred plenty of ex-colleagues to do the same. Most enjoyable. "

Anthony B.

"A good course with an excellent lecture and introduction to business administration"

Dzenan D.

"Incredible! Loved how direct to the subject it is. Very easy to understand and its lessons are very important to someone who wants to be A LEADER."

Carlos C.

"Very interesting course with good examples to illustrate the ideas. The content is explained in a clear way"

Vanessa M.
Previous
Next
See other related Special Executive Master's Courses in Nigeria
The Metro Business
- Articles you'll love