International Postgraduate Diploma in Human Resource Management (Level 7) in Suriname 2022
Tuition

SRD 77,002

SRD 42,779

Limited time offer
International Postgraduate Diploma in Human Resource Management (Level 7) in Suriname 2022
SRD 77,002
SRD 42,779
---
What makes us different ?
We are a world class business school located in the heart of London, Dubai, Muscat and Lagos.
We are one of the fastest growing private business schools in Suriname, with a stylish blended
learning model that is both online and on campus.
UK Accredited
Gain an International Postgraduate Diploma which is recognized and accepted worldwide.
Low Fees
Get as much as 50% scholarship.
100% Assignment Based
All modules are assessed via submitted assignments - there are no exams to write.
Easy Payment Structure
You can pre-structure your preferred payment option. Pay in easy instalments.
Learn more about the programme
Aim of the Programme:

Human Resources Management impacts directly on the growth and advancement of every modern organization and is a much-sought-after qualification. The MSBM International Postgraduate Diploma in Human Resource Management is a specialized Programme that enables students to develop an advanced understanding of concepts, approaches, and tools relevant to the field of Human Resource Management in the 21st Century.
The course is designed to help learners develop the competences and knowledge needed to understand the complexities surrounding the human factors in the workplace, lead the organizations through change initiatives and manage the human capital within the organizational context effectively. It will also equip learners with the knowledge and skills needed to be effective change agents, either as an entrepreneur, manager or consultant.


Programme Structure
This program consists of 6 compulsory units which are equal to a total of 120 credits.
This module provides the most critical information about the study course and assignment submission.
Module Aim
To provide learners with the ability to understand and analyze the impact of internal and external environmental forces on Organisational strategy and management of people, also to enable the learner to analyze a range of Organisational contexts and how they develop ways to respond such environmental forces and the role of HR professionals in contributing to it.
Module Aim
The aim of this unit is to introduce learners to the legal principles guidelines, the law that governs the relationship between the employee and the organization. The course introduces the learners to the UK law and court system and the alternative available for the resolution of employee and employer disputes. The course also aims to clarify the rights of the employee and employer in different legal settings so that the learner is aware of the legal choices and applicable laws in the scenarios and can refer to any of the authority for a complaint resolution.
Module Aim
The purpose of this unit is to develop competence in understanding and analyzing employment markets and demographic trends to create and implement effective, ethical and appropriate resourcing, retention, talent management, and development strategies. Also, the potential and limitations of the contribution of learning and talent development policies and strategies to formulating and achieving objectives at national, Organisational, group and individual levels will be discussed. Learners will assess the role of HRM professionals in designing, implementing and evaluating strategic planning relevant to employee resourcing, talent management, and development.
Module Aim
To provide learners with the competence to proffer solutions to problems arising in relation to leadership, management, and development of human resources within the Organisational contexts. Learners will be enabled to appraise the effectiveness of Organisational strategies, processes, and practices in efficient and effective leadership and management, also the contribution of HRM/HRD practitioners to Organisational change.
Module Aim
To enable learners to understand how to describe performance management and its role in running an effective organization. The learner will understand the main elements that influence the performance of employees at all levels within an organization and the ways in which such elements can be managed in a constructive manner. Further to provide learners with understanding to devise and implement appropriate HR practices and strategies that relate to Performance Management.
Module Aim
The learner will gain an understanding of how the effective strategic management of human resources supports the achievement of organizational purposes in different organizational contexts. The unit seeks to analyze and evaluate the contribution of strategic human resource management to competitive advantage.
All MSBM courses are accredited by the relevant partners and awarding bodies. Please refer to
MSBM accreditation
in about us for more details.
University Top-up
On completion of this course, students have the opportunity to complete a Master degree programme from Girne American University. The top-up programme can be studied online or on campus. The top-up comprises the final 60 credits which consist of either a dissertation or a dissertation and one module.
(The course tuition fee listed above does NOT include the top-up fee)
University Progression


Click here to see University routes and fee information for progression.
A learner must fulfil at least one of the following criteria to be allowed entry to the qualification:
Possession of an honours degree in a related subject that was taught in English
Possession of a level 6 qualification from a recognized awarding body
Five years' management experience
This is a self-study programme with unlimited tutor support. You will never be more than a message or phone call away from our tutors.
There is no Visa requirement for this programme.
Learn fast
Online courses with compact learning chapters enable you to learn business skills faster than ever.
Study Online
Get access to online study materials. All courses are 100% online and self-paced.
Global community
No conventional requirements needed, our courses are open to all ages, professions and citizenship.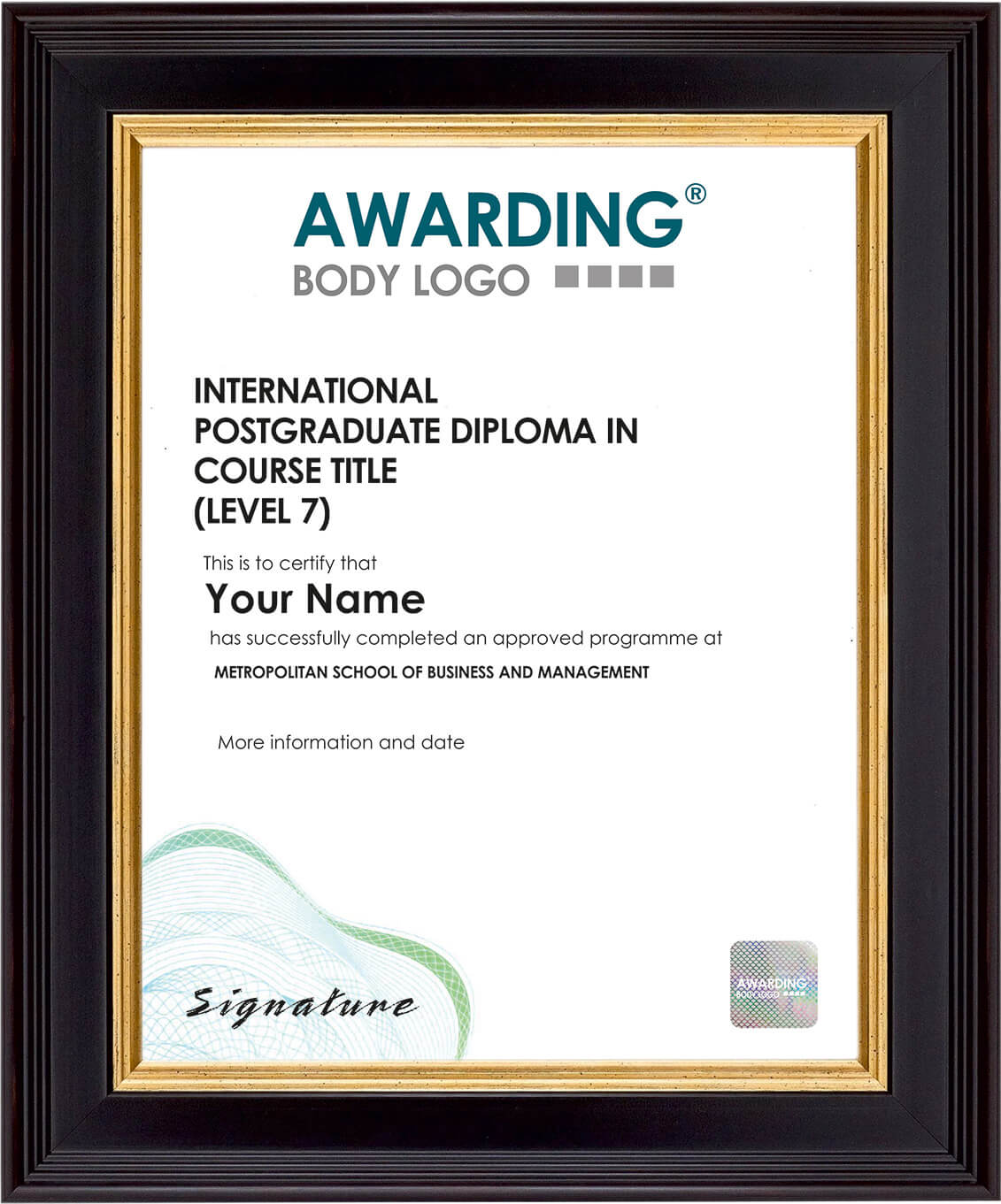 Get your diploma
You will receive an International Postgraduate Diploma from MSBM and awarding partners.
Learn Practical Business Modules
Complete several modules ranging from Business Leadership and Managing People.
Study while you work
Obtain a degree without necessarily leaving your country.
19,676 Verified Reviews

"Clear and concise learning material that provides references to actual working scenarios."

Natalie P.

"A smart way to enhance my knowledge within a short period of time, the course is very productive and beneficial for me...so grateful that i completed successf See More"

BADHEEU H.

"Is very complex content that is explained very simply. "

Carmen S.

"Really good course for those wishing to study online"

David C.

"I've gone through this course with deep interest, and I pick up something new that I didn't see before. I've used the course to boost my performance in th See More"

RISHIPAL S.

"This is such a wonderful and user-friendly platform for busy learners and those who are willing to sharpen skills. "

Virak O.

"This course helped me establish a more formal understanding of the business environment."

Chad W.

"It is more convenient between work and studying. Wish to continue with my studying with you."

Fabian G.
Previous
Next
Accreditation
The Metro Business
- Articles you'll love