Level 7 Diploma in International Business Law Pathway to L.L.M in Suriname 2022
Tuition

SRD 167,066

SRD 104,416

Limited time offer
Level 7 Diploma in International Business Law Pathway to L.L.M in Suriname 2022
SRD 167,066
SRD 104,416
---
What makes us different ?
We are a world class business school located in the heart of London, Dubai, Muscat and Lagos.
We are one of the fastest growing private business schools in Suriname, with a stylish blended
learning model that is both online and on campus.
UK Accredited
Gain a Postgraduate Diploma which is recognized and accepted worldwide.
Low Fees
Get as much as 50% scholarship.
100% Assignment Based
All modules are assessed via submitted assignments - there are no exams to write.
Easy Payment Structure
You can pre-structure your preferred payment option. Pay in easy instalments.
Learn more about the programme
Level 7 Diploma in International Business Law (QCF) – 6 - 8 Months
Credits: 120 Credits


The objectives of the OTHM Level 7 Diploma in International Business Law qualification are to enable learners to gain knowledge and understanding of various branches of law, develop an analytical and critical approach to the application of the UK and International legal principles and understand the appropriateness of dealing with certain aspects of behaviour within the law.
The qualification provides learners with an understanding of law in the context of business to equip them with the abilities needed to work with advanced issues.
By the end of the qualification, learners will be able to:
To understand a range of subjects in international business law.
Develop an understanding of legal frameworks that govern international business transactions within the industry.
Demonstrate an understanding of commercial trust law, company law, international trade law, intellectual property law, and the law of financial crimes.
Develop research skills and have the ability to write on key areas in law.
This programme is a Pathway programme to L.L.M Degree
This unit aims to provide information to learners about English Law relating to registered companies including both private and public limited companies. Learners will gain knowledge and understanding about the legal issues affecting companies, the rights and obligations of shareholders and directors and the legal procedures relating to corporation liquidation.
This unit explores the law of trusts in an international context, comparing doctrine in different jurisdictions and exploring the theoretical implications of such differences.
The aim of this unit is to develop learners' understanding of international trade law. Learners will focus on areas such as international competition policy, and the principles and practices of international sales contracts and analyse issues associated with an organisation trading globally.
The aim of this unit is to enable learners to gain an understanding of regulatory and legislative requirements relating to industrial and intellectual property laws. Learners will examine relevant issues including financial strategy, debt and equity management, the key drivers of shareholder value, corporate governance, and asset portfolio management.
The aim of this unit is to enable learners to understand legal compliance requirements in financial services and markets in relation to fraud, corruption, money laundering, terrorism, and theft laws. Learners will also be introduced to current theories and legal practices in the law of financial crimes and learn about statutory frameworks, financial services regulations and capital market, fraud and theft act, and criminal law regulations.
The unit's aim is to allow learners to develop key knowledge, understanding and skills relating to legal research and theoretical and methodological problems associated with legal studies. Learners will be able to cover key topics relating to a research problem, conduct literature reviews, referencing, data collection and analysis techniques, and drawing conclusions from the analysed data.
All MSBM courses are accredited by the relevant partners and awarding bodies. Please refer to
MSBM accreditation
in about us for more details.
University Top-up
Upon completion of this course, students have the opportunity to complete a Master's degree programme from a range of UK universities. The top-up programme can be studied online or on campus. The top-up comprises the final 60 credits which consist of either a dissertation or a dissertation and one module.
(The course tuition fee listed above
does NOT
include the top-up fees)
University Progression


Click here

to see University routes and fee information for progression.
For entry onto the Level 7 Diploma in International Business Law leading to L.L.M qualification, learners must possess:
An honours degree in a related subject or the UK level 6 diploma or equivalent overseas qualification i.e. Bachelors Degree or Higher National Diploma
OR
Mature learners (over 25) with at least 5 years of management experience if they do not possess the above qualification (this is reviewed on a case by case basis)
Workshops are conducted by live webinars for all students.
There is no Visa requirement for this programme.
Learn fast
Online courses with compact learning chapters enable you to learn business skills faster than ever.
Study Online
Get access to online study materials. All courses are 100% online and self-paced.
Global community
No conventional requirements needed, our courses are open to all ages, professions and citizenship.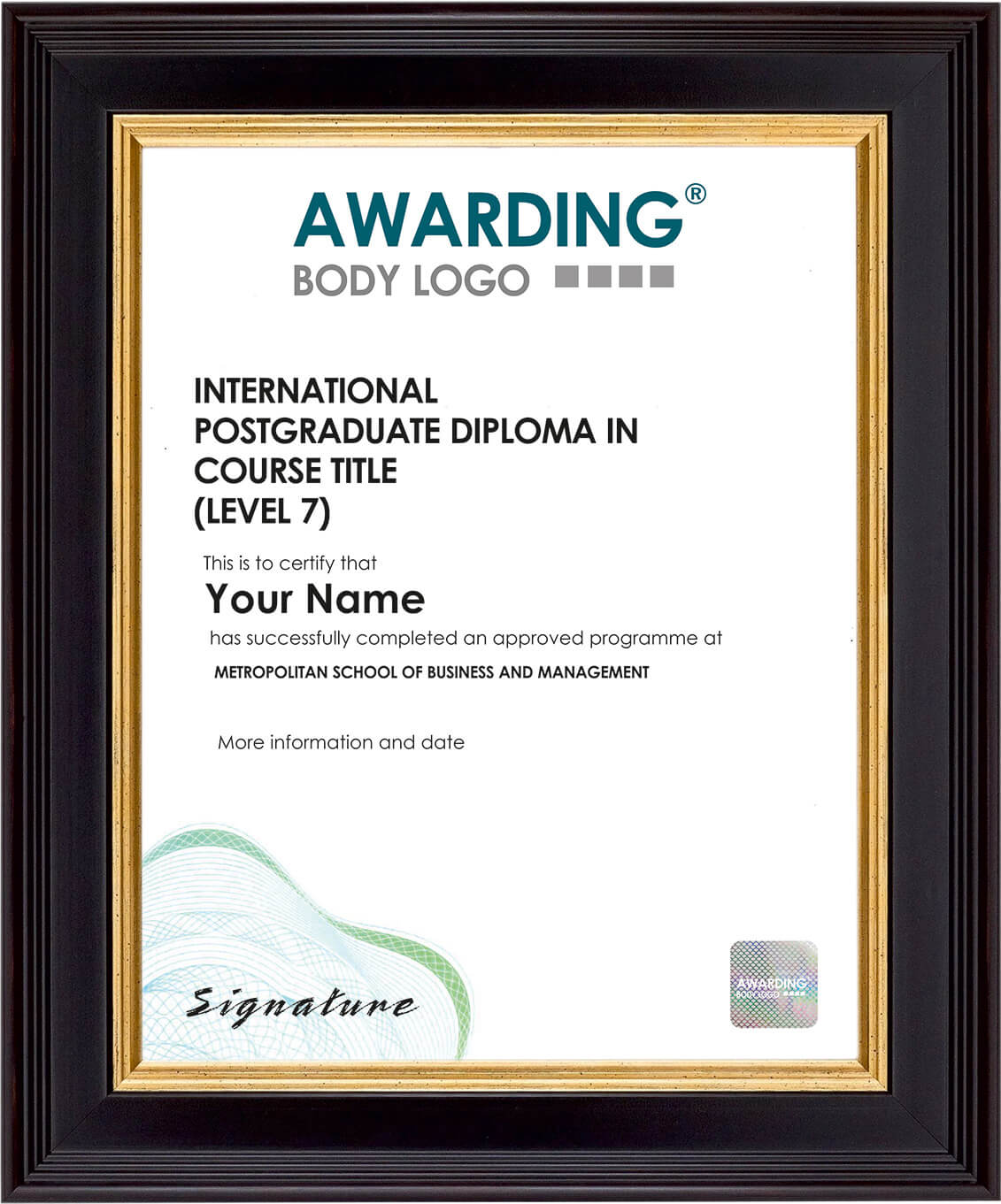 Get your diploma
You will receive a Postgraduate Diploma from MSBM and awarding partners.
Learn Practical Business Modules
Complete several modules ranging from Business Leadership and Managing People.
Study while you work
Obtain a degree without necessarily leaving your country.
19,642 Verified Reviews

"Very helpful course especially for the working professionals"

Sano M.

"It was awesome knowing about this course, thanks a lot I will recommend people who are willing to do virtual learning due to their time frame."

Alhassan O.

"Very simple and helpful "

José P.

"Is a great opportunity to learn and build my capacity and enhanced my scope of knowledge, is a great and lovely experience. Thank you."

Hayford A.

"I have learned a lot and again experienced in this course. I first, I did not have confidence when standing front of audience, but this course has taught me a l See More"

VIDA G.

"It is actually a great honor to have taken a course from my comfort zone.
I enjoyed the course"

EVANS M.

"I'm happy to complete this course with MSBM. They have added value to my knowledge and career."

Awil I.

"It's very great material"

Elvis K.
Previous
Next
Accreditation
The Metro Business
- Articles you'll love