Tuition

TTD 41,465

TTD 23,036

Limited time offer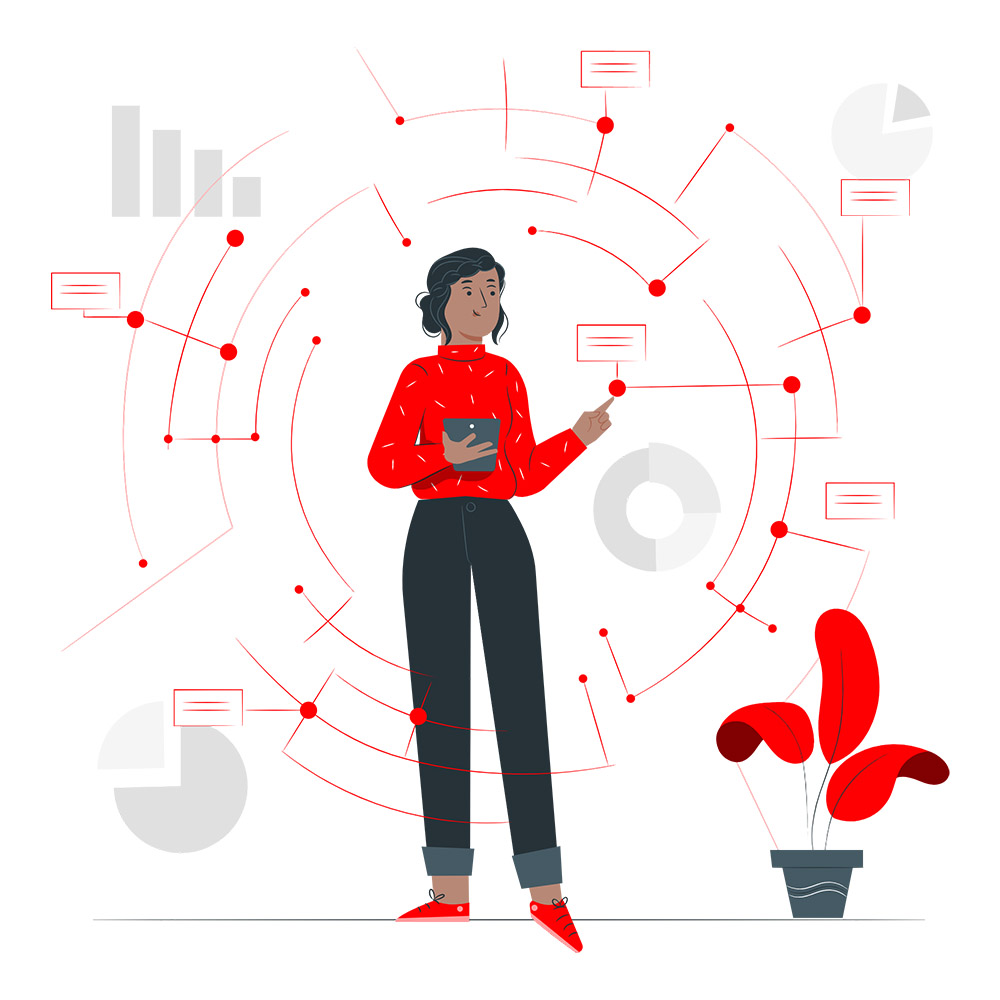 Special Executive Master's Programme in Operations Management in City of San Fernando 2022
TTD 41,465
TTD 23,036
---
Special Executive Masters Programme (S.E.M.P)
This programme is geared at enhancing professionals' careers. The SEMP is an encapsulated Senior Management Programmes are short certificate modules designed for anyone who would benefit from more in-depth business knowledge delivered in a short and intensive programme
What makes us different ?
We are a world class business school located in the heart of London, Dubai, Muscat and Lagos. We are one of the fastest growing British business schools with a stylish blended learning model that is both online and on campus.
Learn more about the programme
Course Overview

The MSBM Special Executive Masters Programmes (SEMP) allows you to update your skills, develop new skills, and explore and develop interests in a wide range of topics. These courses can be taken as personal or professional development and may enhance your employability.

The encapsulated Senior Executive Programme in Operations Management is for high-performance managers and directors who work in critical roles using available resources to effectively produce products and services in a way that satisfies the customers. The Programme is also useful for managers and directors who need an intensive course to cover the key areas that drive success and profit in everyday business operations.


Mode of Study
Using Web-based technology, this program provides self-paced, individualized instruction that can be taken anywhere and anytime an individual has access to a computer and the Internet. This Programme is suitable for successful professionals or specialists in the private, public, or voluntary sectors who have new management responsibilities and need to quickly expand their management knowledge.

This Programme serves as a refresher course for those who have had their Masters a long time ago and need quick reminders and professional/ academic updates while it serves as a primer for those very experienced Professionals who never made time out for their masters yet they require the academic and practical relevance of this master's experience.

It is a short executive training that runs online for 3 months. Candidates will run 2 months of active lectures and series of assignments and 1 month for their dissertation. Upon successful completion of the Programme, candidates will be awarded a Continuing Professional Development (CPD) certificate in the specific Programme they have completed.

What is a CPD Course?

Continuing Professional Development (CPD) is the means by which professionals maintain and enhance their knowledge and skills. The world is constantly moving at a very fast pace so undertaking CPD is essential to support a professional in his/her current role as well as helping them with career progression. CPD is all about upgrading knowledge, skills, and capabilities to remain effective and compliant.

A CPD course is an investment that you make in yourself. It's a way of planning your development that links learning directly to practice. CPD can help you keep your skills and knowledge up to date and prepare you for greater responsibilities. It can boost your confidence, strengthen your professional credibility, and help you become more creative in tackling new challenges.


Is the SEMP Operations Management Programme right for me?
If you want to reduce the amount of investment that is necessary to produce the required type and quality of products and services; increase the effective capacity of your operation; provide the basic capacity for future innovation; build a solid base of operations skills and knowledge within the business, and have the drive to uphold vision which would take your current role to the next level in order to distinguish yourself as a truly high- performance manager, then this is just the right Programme for you.

Why SEMP Operations Management?
In recent years there has been a lot of talk about competitive advantage,
something that every business seeks. Many debates more specifically focus on how operations management can deliver a competitive advantage in a different environment. When enrolled for this Programme, you will gain a complete and thorough grounding in the four major concepts of competitive advantage in operations management which are:
Cost Leadership
Short delivery times
Flexibility
Reliability
By the end of three months, you will have worked through several case studies, have access to numerous online academic materials, and also have received directions from the best business trainers in the business world today.

Who Should Enroll in This Online Certificate Program?
The SEMP Operations Management Programme is designed for entry-level managers, up to mid-level managers, senior managers, or directors who are in a general management role or fast approaching such position and are seeking an opportunity to obtain a richer, deeper understanding of management skills.
The reasons were given by previous students for taking the online Programme include:
Personal career development
Promotion to generalist' roles from functional specialization
Guiding my company to profitability
Contributing to the growth of my organization
Personal recommendations by online alumni students
A 'taster' before embarking upon an academic Masters Programme
Broadening of business expertise for those from public and non-profit making organizations.
A good Programme for people without previous University, Polytechnic or College degrees.
This module provides the most critical information about the study course and assignment submission.
This course will enable students to understand issues and decisions that must be made when embarking upon an ERP selection and implementation journey. It will also lead to an understanding of the challenges associated with managing extant ERP systems. In the process, students will become familiar with the forces and organizational conditions leading to the acquisition of such enterprise-wide systems.
This course is an introduction to the concepts, principles, problems, and practices of operations management. Emphasis is on managerial processes for effective operations in both goods-producing and service-rendering organization. Topics include operations strategy, process design, capacity planning, facilities location and design, forecasting, production scheduling, inventory control, quality assurance, and project management. The topics are integrated using a systems model of the operations of an organization.
To understand the process of identifying appropriate and feasible projects, and to be able to initiate and start a project. To be able to manage, monitor and control a project, including assessing, managing and controlling project risks and issues, project, and team management and change management. To be able to evaluate the success or failure of a project.
The course is designed to help students become good researchers, to become familiar with the steps in proposing research topics, and clearly apply research knowledge in education. After completing the course, students will be able to prepare a research plan, collect data, address research questions and hypotheses, and organize a project report.
The aim of the programme is to provide postgraduate-level education in operations and supply chain management principles, theories and practice. This unit introduces the concepts of logistics and supply chain management. In the modern global marketplace, companies need to be efficient in relation to the movement of supplies and delivery of the final products. The unit explores issues in relation to logistics including value, managing lead time and techniques including just-in-time, and incorporating the role of technology in this process.
The objective of this course is to gain the knowledge of possibilities of efficient optimization and management of operation using TQM to improve the overall efficiency of the firm.
The content of this course has been independently certified as conforming to universally accepted Continuous Professional Development (CPD) guidelines.
There are no strict entry requirements for this course. Work experience will be added advantage to understanding the content of the course.
This is a self-study programme with unlimited tutor support. You will never be more than a message or phone call away from our tutors.
There are no Visa Requirements for this Programme as it's as Online Course.
Learn fast
Online courses with compact learning chapters enable you to learn business skills faster than ever.
Study Online
Get access to online study materials. All courses are 100% online and self-paced.
Global community
No conventional requirements needed, our courses are open to all ages, professions and citizenship.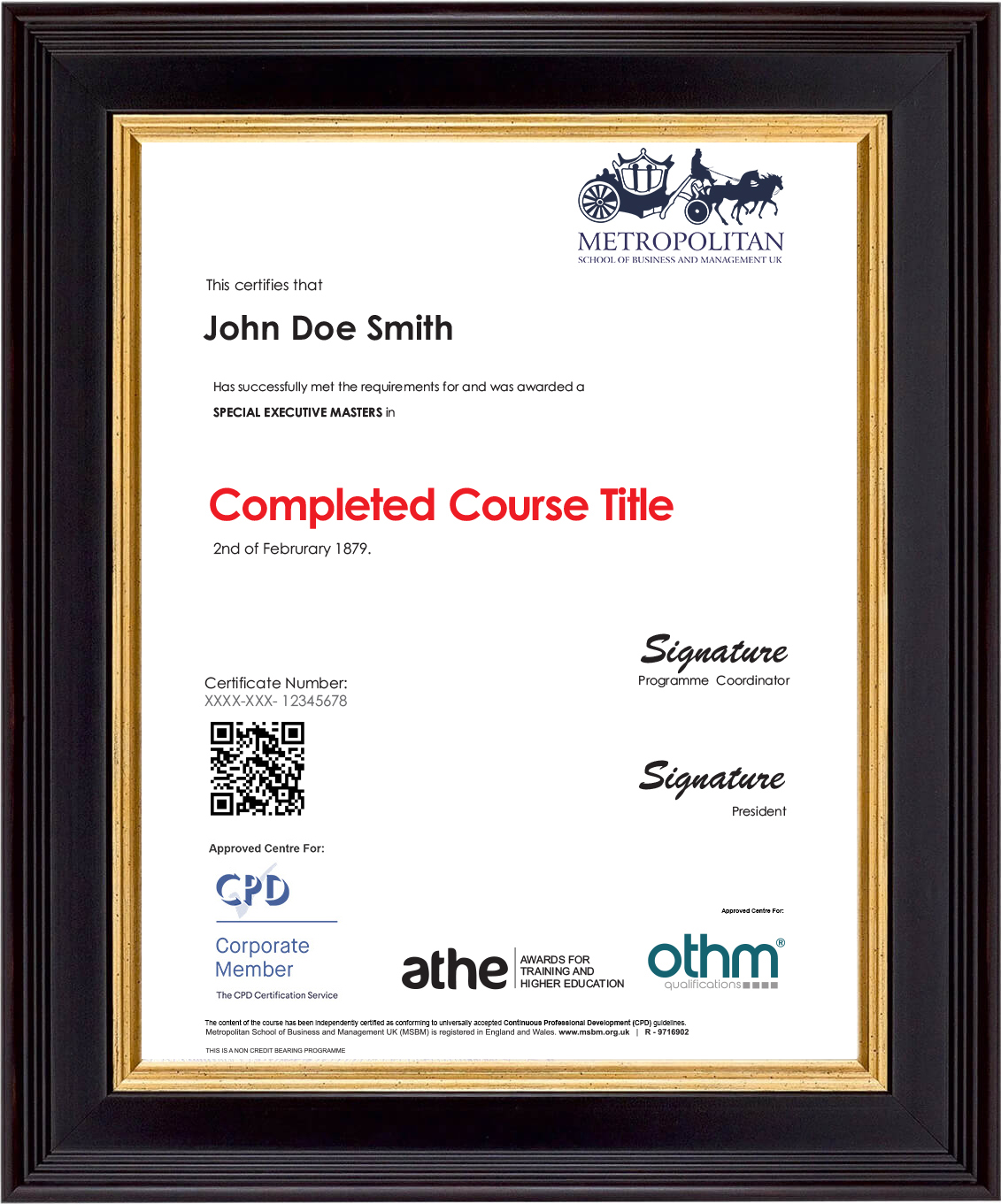 Get Your Course Certificate
You will receive a highly valued digital certificate at the end of each course.
Learn Practical Business Modules
Complete several modules ranging from Business Leadership and Managing People.

Share your certificate
Learn how to share your certificate on LinkedIn by clicking
here
19,676 Verified Reviews

"This course examine topics that I never really thought about. The concepts were so simply explained a child can understand.... Thanks for accepting me into yo See More"

Abigail R.

"It doesn't matter how many times I attend, I always learn something new!"

Kevin O.

"A very interesting and valuable experience. I found the course interesting, challenging, and rewarding. It has been a truly invaluable learning experience for m See More"

ATHANASIOS A.

"Very useful and informative"

Gunay S.

"It doesn't matter how many times I attend, I always learn something new!"
Veronica H.

"Great knowledge has been provided. True skills and capacities have been discovered, vision has been created. I am ready.
Thank you."

Ernad B.

"A smart way to enhance my knowledge within a short period of time, the course is very productive and beneficial for me...so grateful that i completed successf See More"

BADHEEU H.

"I liked this course a lot. because I have difficult job. which contains of too many stress causing factors and now I know how too help myself and maybe my colle See More"

LIALIA S.
Previous
Next
See other related Special Executive Master's Courses in City of San Fernando, Trinidad and Tobago
The Metro Business
- Articles you'll love